An Evening of True Stories IV
20. March 2016 o 7:00 PM

-

9:30 PM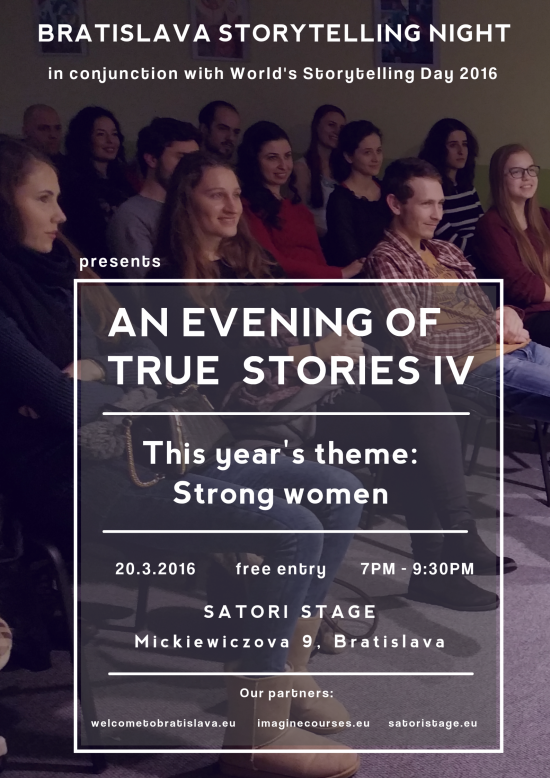 We're back with the 4th installment of 'An evening of True Stories'. This will be a very special event because we are joining the World Storytelling Day, which is on 20.3.2016 for a global celebration of the art of oral storytelling!
This year's theme is "STRONG WOMEN". Let's get together for a magical evening full of enchanting true stories from our lives.
We believe every true story is an opportunity to learn something about others, ourselves and has the potential to make a difference to our understanding of the world around us.
Our goal is to meet in a prejudice and judgment free environment to share true stories that make us think, laugh, cry, hope, wonder, learn and care. Anyone who wants to share their story can do so for 5 – 7min.
Nobody is forced to tell a story, so feel free to come and just listen to others' true stories.
Sounds interesting? Come join our 4th session! Bring friends if you want but above all, bring ears to listen, a mouth to tell and a heart to feel.
Featured Storyteller: Nikolas Haugeneder
Nikolas was born in Upper Austria. In 2013, he graduated from the prestigious International School of Storytelling in Forest Row, East Sussex, UK. Since then, he has performed as a storyteller in a variety of events and festivals in Austria, England and Finland. Nikolas is currently a member of "Tellers Without Borders" and ALBA Svergie.
Featured Storyteller: Peter Mezey Kaufman
Peter is an American-Hungarian who fled a life in finance to start an improv theater in Budapest. Peter trained at the Magnet Theater in New York in improvisation, musical improvisation and storytelling. Peter has taught or performed all around Europe, including Russia, Estonia and Poland.
Host: Hon Chong
Hon is a storyteller, improviser, artist and accomplished educator. Hon has been in training, education and development for over 12 years and has worked in the USA, Slovakia, The Czech Republic and Malaysia.
His love for storytelling started early. He grew up in a culture full of folk tales, superstitions and legends. He considers his grandma to be one of the best storytellers he has ever met and learned from.
Admission: Free (but generous donation is very welcome to help us cover the costs of running the event).
FAQs:
Q: What type of stories can I tell?
A: We want people to share real life stories about their lives – experiences trying new things, taking on challenges, stepping out from their comfort zone, hilarious faux pas, travel adventures and misadventures … as long as it is their own real story. This is NOT an event for debates, political speeches and religious sermons. We also do not tolerate offensive, hateful and objectifying talks.
NOTE: We are joining the World Storytelling Day on 20.3.2016 to be part of the global celebration for oral storytelling. This year's theme is "strong women". We highly encourage everyone who wants to tell a story on the evening to stick to the theme.
Q: What does the theme "Stong women" mean? What type of stories can I tell with this theme?
A: Think about all the women in your lives; mother, teacher, sister, wife, friends, partners, lovers, bosses, and so on. How did they affect you? How did they shape your life and views? What did you learn from them? Or perhaps, you are your own strong woman. Strong in English can also mean power, robust, tough, fierce, intense, firm, strict, rugged, determined, tenacious, spirited, zealous, dedicated and many more synonyms.
Q:Where can I find out more about World Storytelling Day 2016?
A: Here http://www.freewebs.com/worldstorytellingday/ and here https://en.wikipedia.org/wiki/World_Storytelling_Day
Q: Does my story have to be in English?
A: Yes, because we want to hear stories from all over the world.
Q: Can I come and just listen to others' stories?
A: Yes, definitely.
Q: What do I need to do if I want to share my story?
A: You can send a brief email to hon@imaginecourses.eu together with a short description of your story or you can also just come on that evening and tell the host you would like to share your story.
Q: Can I tell my stories in the form of a poem/ song?
A: Yes! As long as you don't read it from a paper.
Q: I have no experience in storytelling/ public speaking at all. What if people hate my story?
A: You don't need to be a master storyteller. All skill levels are welcomed.
Q: My English is not good. What if people don't understand me?
A: If you need help with your story, feel free to email hon@imaginecourses.eu
Q: My story is not funny or interesting enough for people to listen to!
A: Our event is friendly, open, intimate and honest. This is not a stand-up comedy night where you are expected to tell jokes. Relax, take a deep breath and enjoy the empowering feeling of having a platform to share your stories with an empathetic and supportive audience.
A big thank you to our partners and friends:
welcometobratislava.eu
https://www.facebook.com/welcometobratislava/?fref=ts
Imagine Center for Learning
https://www.facebook.com/imaginecourses
Satori Stage
https://www.facebook.com/satoristage